Landscaping Services in Vail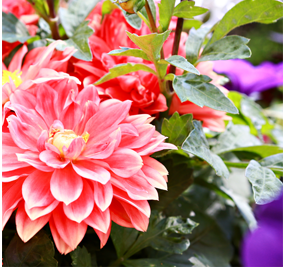 Landscape services in Vail, Colorado
American Lawn Care & Irrigation provides landscaping services in Vail. We are proud of the services we offer in the town of Vail. We arrive each week with the goal of making your Vail property look its best. No landscaping detail are spared.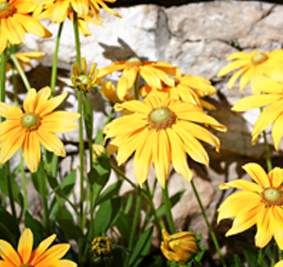 Garden Bedding in Vail
We maintain many gardens in Vail. We know how to help your flowers with all the factors of high altitude. With over 20 years of experience, our landscape team has the ability to see your gardens special personality and enhance it . Your flower bedding will look great with annuals as well as perennials .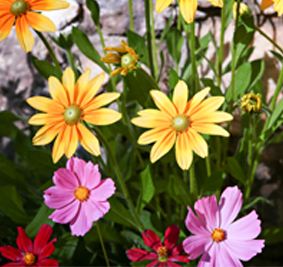 Irrigation in Vail
The owners specialty is irrigation. All irrigation systems are so unique so to have Scott's 20 years of expertise on your job site will save time & money!If you call the owner about a dry spot, he will quickly be able to diagnose and resolve the issue.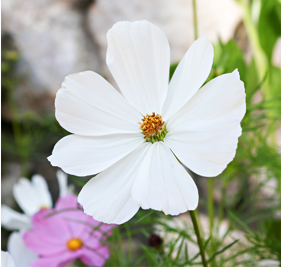 Vail Container Flowers
we have many container flowers all over Vail and beaver Creek and were recognized in 2016 as the "Best Container Flowers in Beaver Creek" All container flowers are grown in our greenhouses locally in Eagle. We store the containers for you and bring them back next season beautifully planted and blooming.
How to Choose the Best Landscaping Services Company in Vail, CO?
Set your goals first
Before you search for a landscaping service company, you need to identify your needs. Do you need a landscaper to maintain your lawn or create an outdoor recreation area? Do you want to attract customers/ tenants or want a cozy place to relax? After you identify your goals, it will be easy for you to shortlist the companies in Vail & Beaver Creek, CO.
Do your homework
You must research the companies before you shortlist any from Vail & Beaver Creek, CO. Check the companies' websites, their social media accounts, and review sites. Also, check whether the company has served any client with needs similar to yours. It is better to do your homework than regretting later.
Keep your options open
Always keep your options open. There are several contractors in the market, and not all fall under the same category. Companies can refer to themselves as landscape design firms or lawn care firms. Check all of them but settle with the one offering professional services.
Experience and knowledge
With experience comes wisdom. Hence, never ignore this criterion. A new company with freshers is prone to making more mistakes in the first two or three years of its operation. As they grow, they learn, and you get to benefit from their wisdom. Its staff should also possess the required expertise.
Does the company employ sustainable practices
Sustainability is the key to survival. The company should offer sustainable services, be it their materials or plans. It should consider cost, energy consumption, and impact on the environment. Avoiding these factors can turn out to be costly in the future.
Ask for references
Apart from checking the past work of the company, it is always wise to ask for references. Meet clients and enquire about the company's quality, timeliness, materials, and services. You can also visit the sites they are currently maintaining. It will help you identify the one company that will work as per your vision.
American Lawn Care Vail is the #1 Landscape companies in Beaver Creek, Colorado. Speak to our expert today to know more.
Advantages of Doing Landscaping Services
Saves water
You may accidentally over-water plants, but a professional landscaper won't. Also, depending on the type of plants, they use sprinklers or drip irrigation systems. With them taking care of your landscape, chances of water spillage greatly reduce.
Take care of your physical health
Even by looking at trees and plants, you can reduce the stress level and blood pressure. Less stress means a low level of cortisol. It will help you reduce weight, increases your memory, and prevents heart diseases. As you spend time on your lawn, your overall immune system strengthens. You get rid of inflammation and irritable bowel syndrome.
Mental wellness
The mental health benefits are plenty. Spending time with nature reduces symptoms of depression, anxiety, and other mental issues. You tend to remain calmer and successfully control your mood. All these factors create a positive impact on your self-esteem.
Not physically exhausting
Periodic trimming of plants can be quite exhausting. You may sustain injuries or sore muscles. In the long run, it can dampen your spirits. Before it is too late, hire a landscaping company. Let them take care of your lawn while you take care of your health.
Eliminates noise
Plants and trees can surprise you by reducing noise pollution. Trees with rough bark, more branches, and thick leaves are great at absorbing sound. A densely decorated landscape can result in noise level dip by around 30 percent.
Improved quality of life
A well-maintained landscape improves your overall quality of life. You stay fit both physically and mentally. The fact that you are taking care of the environment makes you proud. Also, as landscape services reduce bills, you get to manage your money better.
Are you looking for an expert to do Landscaping Services in Vail? Then, you are in the right place. Give us a call now!
Vital Questions to Ask Before Hiring a Landscaping Company in Vail, CO
How do the company source trees, shrubs, and plants?
It determines the cost involved. Native species cost less. You do not have to pay any shipping charges. Also, they are more likely to thrive. Apart from this, they will not require much attention and maintenance. In short, your lawn will not cost you much.
Is the company insured?
Hiring a company having insurance coverage protects you from unnecessary payments. A tree branch can destroy your roof or car. Now, if the company does not have insurance, you will have to foot the bill. Also, an insured firm takes care of medical expenses when workers suffer injuries.
How much time the company needs, modes of communication, and cost involved?
Unforeseen problems may arise, but the company should give you an idea of the project's time. Apart from this, you should get a dedicated point of contact. In case you find any problem, you should be able to reach them. Also, discuss with the staff your budget and find ways to reduce the cost.
Are you looking for an expert to do Landscaping Services in Beaver Creek, CO? Then, you are in the right place. Give us a call now!